There is no military solution in Israel/Gaza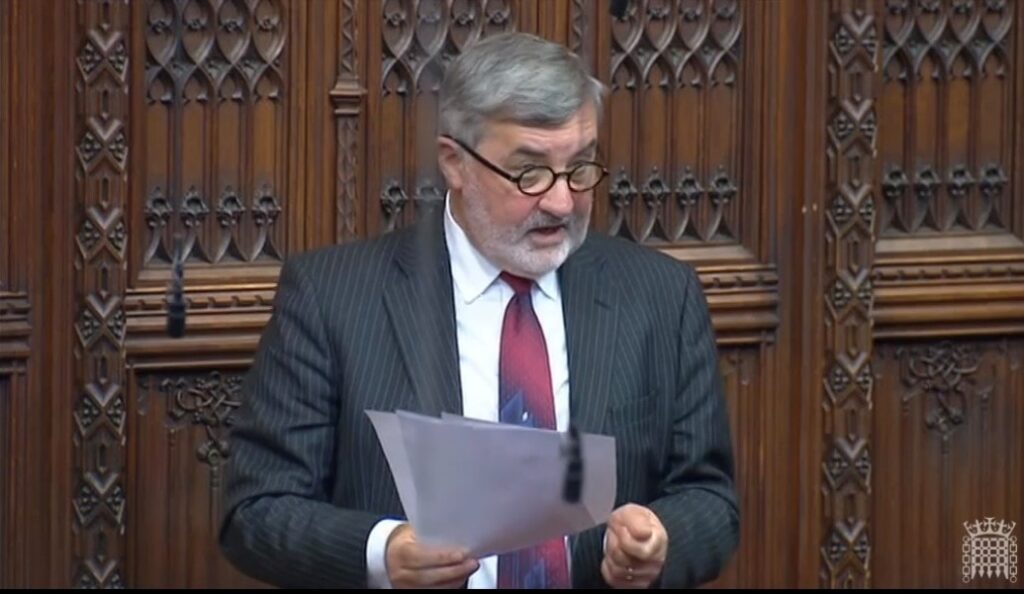 Lord Alderdice spoke in the House of Lords debate on the Israel/Gaza Conflict on 24 October 2023. Here is the script of that speech –
My Lords, I start by declaring my interests in the register, particularly as Executive Chairman and Director of The Changing Character of War Centre at Pembroke College, Oxford.
It is very difficult to approach this debate calmly. One might argue that there is no reason to be calm. Horrible, frightening things have been happening in Israel and Gaza and it is natural to rage and wish for vengeance and to identify more with one side of the conflict than the other. Like other noble lords, I condemn without reservation the terrorism of Hamas, and I appreciate how for Jewish people the Hamas atrocity means more than even the awful killing that has just taken place, because it reflects memories of the Holocaust and historic antisemitic pogroms. I also identify very strongly with my Christian co-religionists who hoped to be safe when they sheltered in the third oldest Christian church in the world but found no sanctuary there and dozens of them were killed by an IDF missile. Are those Christians simply to be regarded as collateral damage? Are they not human beings too. Surely ordinary people, old and young, living in their own place, whether in Israel or Gaza, should be able to enjoy peace, freedom, and security, be they Jewish Israelis or Palestinian Muslims or Christians. Communities should not be imprisoned behind fences, starved of food, medicines, and water, and subject to collective punishment. This is not only wrong. It is not a defence of Israel and the values of Israel.
One of the lessons of recent times is that armies with massive military capability less often win wars than they did in the past, whether in Vietnam, Afghanistan, Iraq, Libya, or Syria. Hamas more closely resembles the Taliban than Al Qaeda or ISIS because it is a governing authority that has run a defined territory for some years. And that should give us pause for thought. Twenty years after US troops entered Kabul, the Taliban were back in charge of Afghanistan and getting the full support of China. Many billions of US$ were spent in Afghanistan, many lives were lost on all sides, and the standing of America was severely damaged in the eyes of the rest of the world. And Israel is in an even more difficult situation – a small country in a dangerous neighbourhood, embarking on a ground invasion of Gaza that will not only result in the deaths of many ordinary Palestinian people and Israeli soldiers, but will likely open up a war on other fronts, notably in the north with Hezbollah, backed by Iran. My Lords, one the first IDF soldiers to die was Ido, the son-in-law of my old friends, Robi and Charlotte Friedman. He left a young wife, Noga, and three young children. The proposed ground offensive will be a death mission for many hundreds, perhaps thousands, of other young Israeli soldiers and my Lords its aims are unachievable. Even if every single Hamas operative in Gaza was killed it would not address the membership of Hamas and other extremist groups in the West Bank, in Lebanon and in Jordan. Indeed, it is already acting as a recruiting sergeant for extremist groups across the world, including in this country where we are seeing increasing antisemitism and islamophobia.
Is there a considered Israeli plan? Has there been serious consideration of the consequences? The US military does not think so. Going in to deal with well-armed terrorists occupying 300 miles of tunnels is one thing; how to get out again is another. Even before the ground offensive starts the United States and the United Kingdom are finding that European allies are asking questions about the strategy and calling on Israel to hold back, not only to protect the hostages, and provide humanitarian aid, but also to give time for reflection about the wisdom of such an attack.
My Lords, I have been warning for years in your Lordships House that we are sliding into a third global conflict, and this development in Israel and Gaza is not hermetically sealed from the Russia-Ukraine war where Iran also plays a background role. The causes and the consequences of this conflict are not just local; they are international.
My Lords, while I was, like everyone else, shocked by the savagery of the Hamas attack and also disturbed by the indiscriminate nature of the IDF bombing, I was not surprised. I have visited Israel frequently over many years and in recent times I could see how the ill-treatment of Palestinians was creating a powder-keg. Do we really think that there is no relationship at all between, on the one hand the replacement in 2022 of the most broad-based government in the history of Israel with the most hard-line government ever, and on the other hand the worst terrorist attack in the history of the state of Israel in the following year? My Lords, understanding consequences is absolutely not justifying them, but not only have we seen hundreds of thousands of Israelis coming out week after week, month after month, to protest against the Netanyahu, Smotrich, Ben-Gvir coalition, but we now know that now more than 80% of Israelis themselves blame that government for its contribution to the current catastrophe.
That is why I was somewhat dismayed that our Prime Minister and President Biden initially appeared, while rightly responding with support for Israeli people in the face of the Hamas terrorist atrocity, to offer support to Prime Minister Netanyahu whatever he decided to do. They may well have said different things in private; they may well have exerted much needed pressure; but that is not how it looked in public. The demeanour of the two Foreign Secretaries, Blinken and Cleverly, seemed to find a more balanced and wiser narrative and one that has made some progress in recent days – I hope from what he said earlier today that we will continue to hear that more thoughtful narrative reflected in the interventions of the minister we are fortunate to have in this House, not only today but as we move forward.
And moving forward must mean finding a political settlement, my Lords. There is no military solution and there is no political solution that does not take account of the needs of the Palestinians. I have been involved in this region for many years and have yet to see a prolonged, committed, psychologically informed peace initiative. Some have started well and then fallen victim to the US electoral cycle. Some have failed to consider the powerful feelings of anger and memories of hurt that have to be addressed. Yet others have believed that they could get the Arab world to come on-side with the promise of economic benefit but marginalize the political needs of the Palestinians.
None of these have worked nor could they work. Is His Majesty's Government prepared to go beyond mere repetition of the wish for a '2-State Solution' and engage humbly and determinedly in a regional peace process that addresses the disturbed historic relationships, to which we have sadly contributed, and give hope in a place where it is in as short supply as food, water, and medicines, rather than provide and encourage the use of weapons as though there were not enough of them in the region, and as though they were the solution, rather than part of the problem?
My own experience is that those working for peace are often attacked by both sides, but working for peace is the only way to provide a future for our children and grandchildren.